Catch of the day carpaccio with oyster mayonnaise.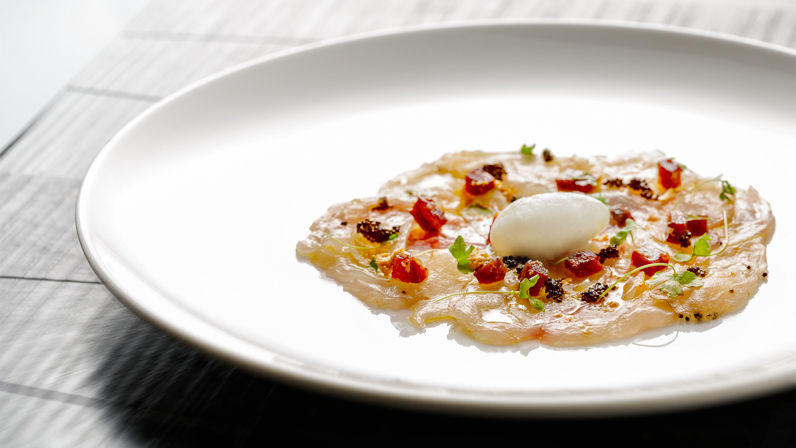 Catch of the day carpaccio with oyster mayonnaise.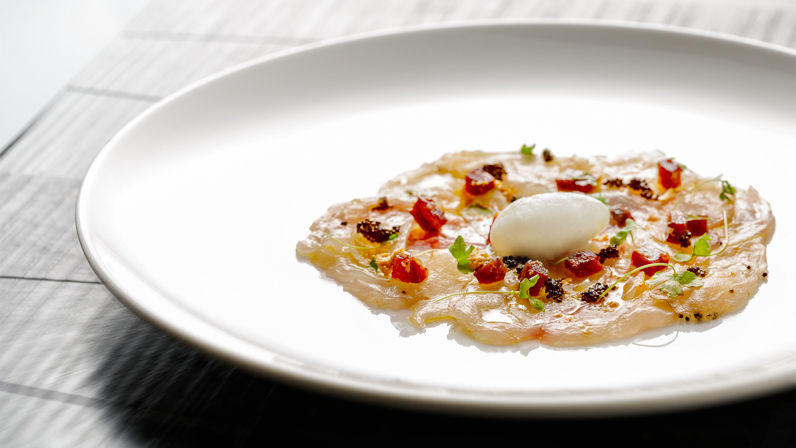 Recipe by Chef Cristina Bowerman – Romeo Chef & Baker – Rome
Ingredients for 4 people
800 g amberjack
120 g tuna
80 g chorizo
2 slices of 'nduja (typical Calabrese salame)
For the mayonnaise:
6 Nieddittas oysters
2 eggs
vegetable oil as needed
Method
For the carpaccio, scale, gut and fillet the amberjack. Cut into portions of approximately 200 g each, also removing the skin. Blast chill the fish for at least 20 hours. Once chilled, cut the still-frozen fish using a slicer and place the slices on a sheet of wax paper in the shape of a circle.
For the mayonnaise, once you have obtained a neutral mayonnaise, add the 6 oysters and mix well with a blender while adding their water.
For each portion of carpaccio, set aside about 30 g of tuna brunoise and 20 g of chorizo.
For the nduja dust: saute' a few slices of nduja at very low heat. Use a chinoise to retrieve all of the nduja's grease. Mix maltodextrin with the obtained grease until it reaches the consistency of a powder. Lastly pass the mixture through a fine mesh sieve.
Plating: season the carpaccio with a drizzle of oil, and place the tuna tartare and chorizo above it. Add a teaspoon of Asetra caviar and the oyster mayonnaise. Finally, sprinkle the 'nduja dust over everything and top with some microcelery leaves. Finish with vinegar sorbet and "Frigo" olive oil.
Here is ready a special catch of the day carpaccio with oyster mayonnaise!.
HOW WILL YOU PREPARE THEM TODAY?