Unusual peppered Nieddittas.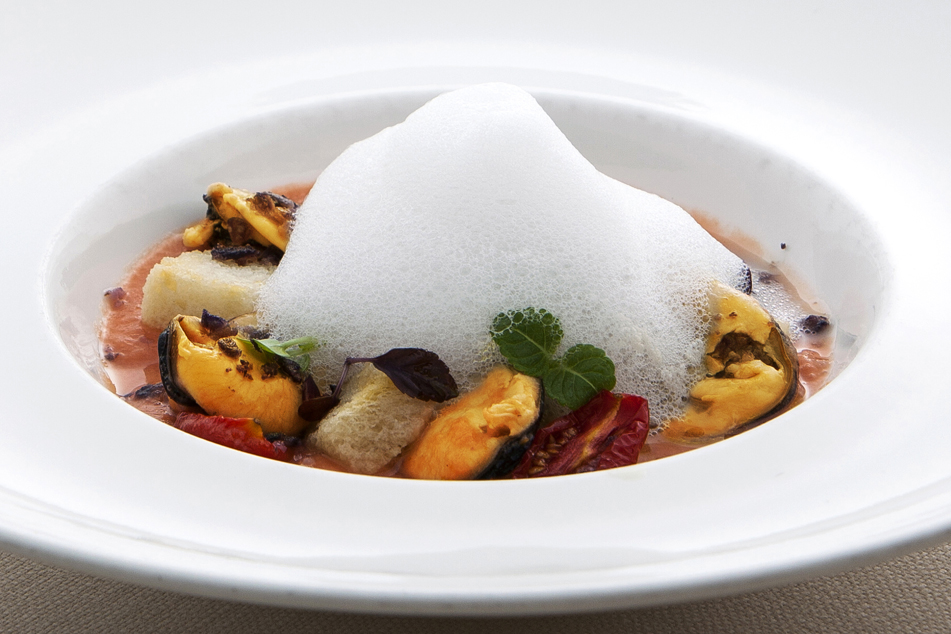 Unusual peppered Nieddittas.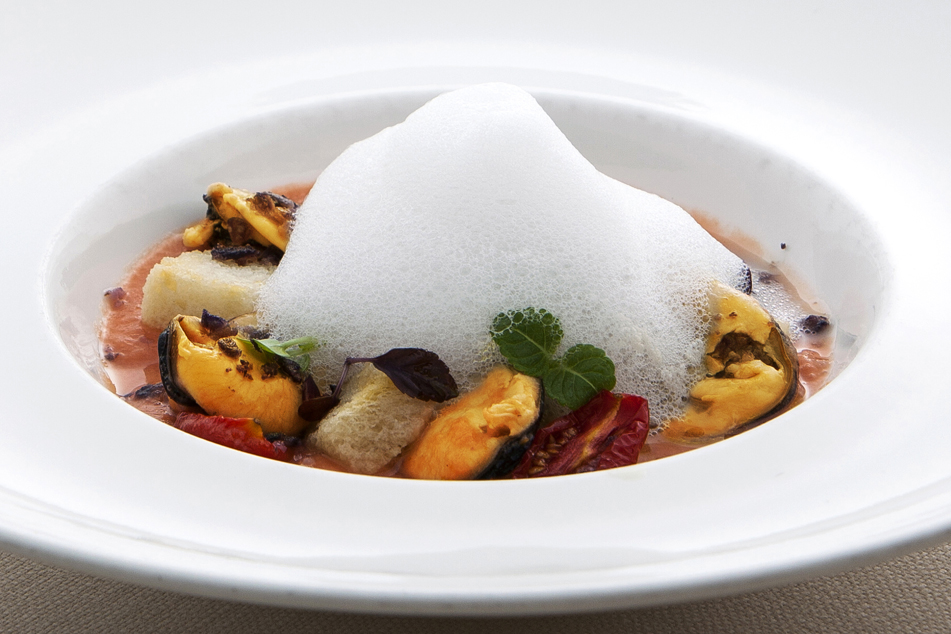 Serves 4.
200 ml cream of tomato
20 Nieddittas mussels
Air of mussels
8 cherry tomatoes
3 pieces of toasted brioche bread
Soy lecithin
Potato powder
Herbs
Lemon juice
Mixed citrus zest
Mixed spouts
Dill
Method.
For the mussels: open the mussels in a covered pan with a little water, without over-cooking, to keep them soft and juicy. Put the water from the mussels aside for the next steps.
For the cream of tomato: take a kg of ripe field tomatoes, skin and seed them. Season the tomatoes with two dessert spoons of delicate olive oil, a teaspoon of salt, a pinch of powered chilli pepper, a quarter of a dessert spoon of young Vernaccia, four dessert spoons of mussel cooking water and lemon zest. Blend all the ingredients until it becomes a cream.
For the air of mussels: add lemon juice to the remaining cooking water from the mussels and a flat tablespoon of soy lecithin. Mount with a hand blender until it becomes foamy in texture.
For the croutons: cut brioche bread into 2 cm cubes and fry in olive oil until golden.
Candied cherry tomatoes: tcut the cherry tomatoes in half and season with salt, sugar, olive oil, herbs and citrus fruit peel. Cook in the oven at 80°C for about 4 hours.
Presentation.
Pour the tomato cream onto a deep plate or shallow dish, arrange the mussels and cherry tomatoes, garnish with sprouts and dill, add croutons, decorate with the air of mussels and potato powder.
Recipe by Chef Gianluca Pino of the T-Hotel in Cagliari.
HOW WILL YOU PREPARE THEM TODAY?