Creamed potatoes and Nieddittas.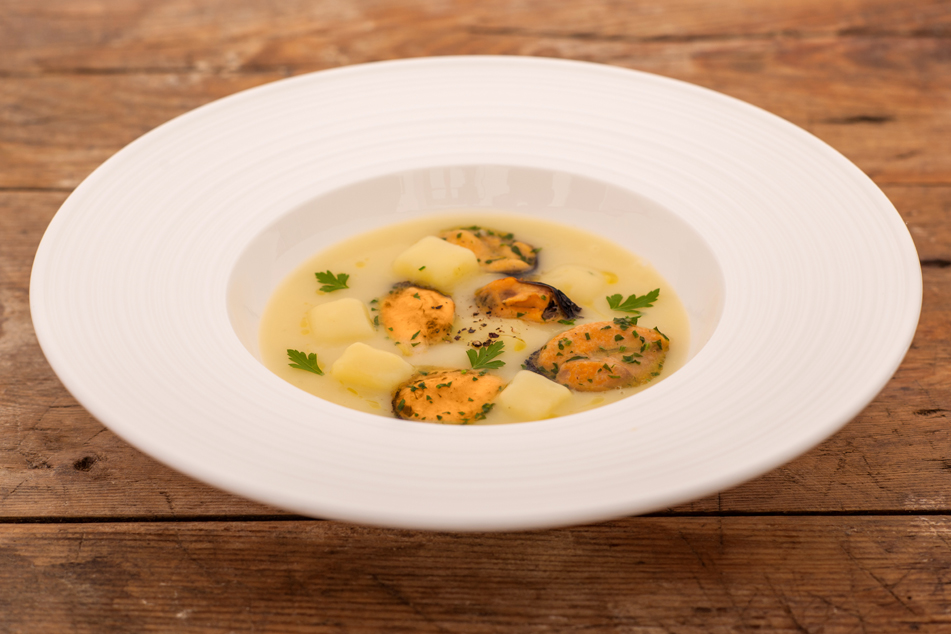 Creamed potatoes and Nieddittas.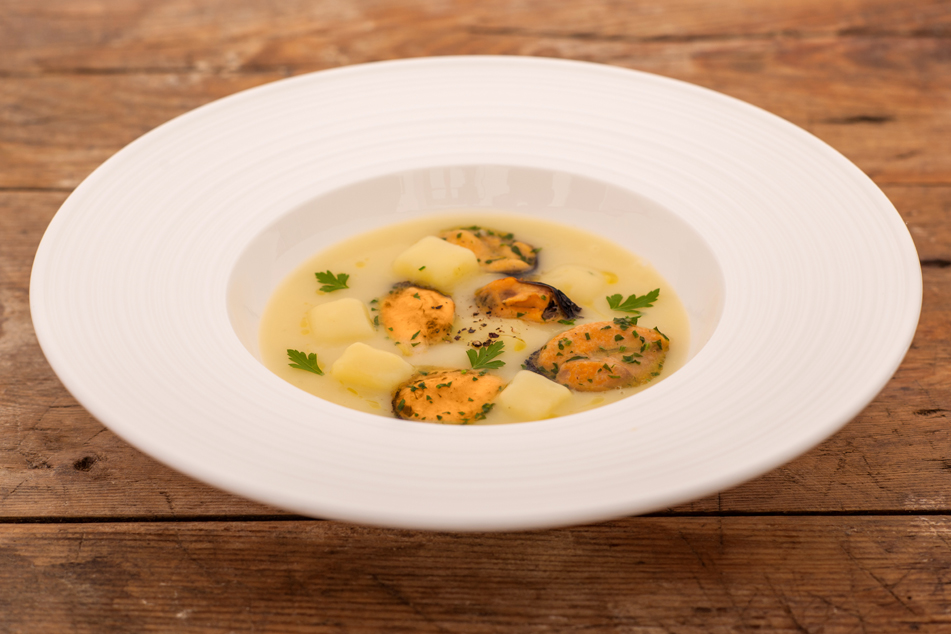 Serves 4.
600 g potatoes
Half a small onion (30 g)
20 g leeks
Half a clove of garlic
1 bay leaf
20 Nieddittas
Half a fresh chilli pepper
A sprig of parsley
6 dessert spoons extra virgin olive oil
1 teaspoon chopped parsley
Salt and freshly ground pepper
Method.
Peel and dice the potatoes into small cubes. Sweat the onion, leek and quarter of a clove of finely chopped garlic for about 1 minute in a saucepan with 3 dessert spoons of olive oil. Add the potatoes and bay leaf, then salt to taste and fry for 5 minutes. Cover with water and cook for about 15 minutes.
Remove 20 potato cubes from the saucepan and blend the rest of the contents, strain through a sieve and put back in the pan with the diced potatoes that were kept aside. Put 2 dessert spoons of olive oil, parsley, chilli pepper and the remaining garlic in a pan, fry for a moment then add the Nieddittas that were previously scraped, cleaned and debearded, cover with lid and allow mussels to open on a high flame.
Once open, drain and shell the Nieddittas, straining the cooking liquid with a cloth, keeping them aside. Warm the cream of potatoes, add a little cooking water from the Nieddittas and serve on plates.
Heat the remaining olive oil in a pan, add parsley and the Nieddittas. Warm them up for a few seconds, flavouring with the parsley and fresh olive oil, then serve them in the dishes.
HOW WILL YOU PREPARE THEM TODAY?