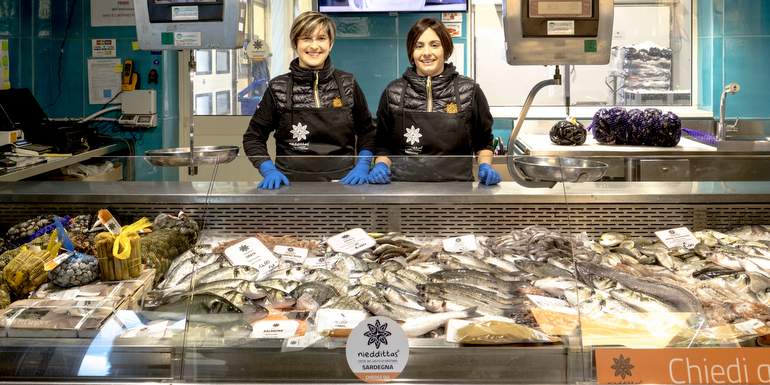 For many years the big names of GDO (large scale distributors) and HO.RE.CA (Hotels/Restaurants/Cafés) have placed their trust in us by offering our products to the public.
In fact, Nieddittas mussels and our other products are found in the fish departments of Bennet, Cancelloni food service, Carrefour, Cedigros, Conad, Coop, Crai, Despar, Esselunga, Eurospin, Il Gigante, Supermercati Pan, Magazzini Gabrielli, Margherita Conad (ex Auchan), Marr, Metro, Ortofin gruppo Finiper, Pam-Panorama, Sidal, Sogegross.
In Milan – at our stall no. 7 at the wholesale fish market in Via Lombroso 95 – on Saturday mornings we are also open to the public from 9.30 am to 12.00 pm.
In Arborea, we have a store for direct sales at our headquarters – phone number +39 348 382 8862
In Milan, Rome and Cagliari we have our stalls at wholesale fish markets and from there we supply wholesalers, restaurants, fishmongers and street vendors.
To find the store nearest to you in Sardinia or in the rest of Italy, fill out the form. We will let you know in which fish shop or supermarket you can find our mussels and other Nieddittas products.